Alba and Mateo is a romance on CW dramedy Jane the Virgin, portrayed by Rosie Garcia and Dennis Mencia.
About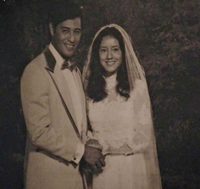 Young Alba and Mateo meet in 1960s Venezuela, and fall deeply in love. Within 41 days of having met each other, Mateo proposes and Alba happily accepts. However, scandal abound as Alba's sister Cecilia, who is also in love with Mateo, spreads the rumour around town that Alba had sex before marriage. Mateo's parents oppose the marriage and, as a result, Alba and Mateo elope and marry, and Alba asks Mateo if they can move to the U.S. Though Mateo comes from money, Venezuelan oil, he gives it up to marry the love of his life, Alba. They happy newlyweds start a life for themselves in Miami and soon have a daughter – Xiomara. Mateo soon dies in the late 1980s, leaving Alba a widow.

Photos
Ad blocker interference detected!
Wikia is a free-to-use site that makes money from advertising. We have a modified experience for viewers using ad blockers

Wikia is not accessible if you've made further modifications. Remove the custom ad blocker rule(s) and the page will load as expected.