Darci Factor
is a recurring character on CW dramedy
Jane the Virgin
. She is portrayed by
Justina Machado
.
Character
Darci is a straightforward, no-nonsense woman, who owns and runs a successful matchmaking company and takes on Rogelio as a client. While great at what she does, Darci has not hitherto started a family of her own, but expresses interest in doing so with Rogelio – as a non-romantic co-parental unit. She and Rogelio get closer, develop feelings for one another and start dating, putting a pause on the baby arrangement for a while.
Relationships
Rogelio and Darci meet in 2016 when Rogelio seeks her out to find a match in her dating service. He goes on dates and very intensely rejects women because he's really looking for something to father a child with. Once Darci realises this, she suggests that the two enter into a non-romantic co-parenting agreement. Rogelio agrees, but quickly develops feelings for Darci and while she is apprehensive at first, being very cynical about relationships, she eventually admits to liking him too and to be scared of letting someone in truly. They decide to take having a baby slowly, now that they're involved. Rogelio eventually agrees to star in a reality show for Darci's sake, starring her and Rogelio entitled The De La Vega-Factor Factor.
Three years later, Darci and Rogelio have broken up because Rogelio couldn't go through with having kids with Darci after all. She resents him for having broken their deal (perhaps her heart?), but they still work together as Rogelio is contracted to the reality series, until he breaks his contract. About 6 months later, the day before Xiomara and Rogelio's wedding, Darci shows up in Jane's car, pregnant with Rogelio's child. Although Xiomara initially calls off the wedding, she decides timing will never be perfect and they marry, trying to mend fences with Darci so she and Rogelio can successfully become a family with Xiomara as well.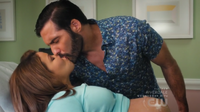 Esteban is hired in Fabian's stead for Los Viajes de Guillermo and Rogelio finds this out seeing Esteban flirting with Darci, who has recently vowed to try and be friends with Rogelio again. Darci was also looking for a partner and maybe she will like Esteban.
Appearances
The character Darci Factor has appeared in 14 episodes throughout Jane the Virgin so far.
Chapter Seventy-Nine (2018)
Chapter Seventy-Three (2018)
Chapter Seventy-Two (2018)
Chapter Sixty-Eight (2017)
Chapter Sixty-Seven (2017)
Chapter Sixty-Six (2017)
Chapter Sixty-Five (2017)
Chapter Sixty-Four (2017)
Chapter Fifty-Six (2017)
Chapter Fifty-Five (2017)
Chapter Fifty-Four (2017)
Chapter Fifty-Three (2017)
Chapter Fifty-Two (2017)
Chapter Fifty-One (2016)
Season 3 (6/20)
Chapter Fifty-One•Chapter Fifty-Two•Chapter Fifty-Three•Chapter Fifty-Five•Chapter Fifty-Six•Chapter Sixty-Four•
Season 4 (8/17)
Chapter Sixty-Five•Chapter Sixty-Six•Chapter Sixty-Seven•Chapter Sixty-Eight• Chapter Seventy-Two . Chapter Seventy-Three . Chapter Seventy-Nine