Jane the Virgin is an American comedy-drama television series airing on The CW. It is a loose adaptation of the Venezuelan telenovela Juana la Virgen, created by Perla Farías.[1]
Premise
Set in Miami, the series will detail the surprising and unforeseen events that take place in the life of Jane Villanueva, a hard-working, religious young Latina woman whose family tradition and a vow to save her virginity until her marriage to a detective is shattered when a doctor accidentally artificially inseminates her by mistake during a checkup. And to make matters worse, the biological donor is a married man, a former playboy and cancer survivor who is not only the new owner of the hotel where Jane works, but was also her former teenage crush.
Starring
Brett Dier as Michael Cordero (until 54)
Jaime Camil as Rogelio De La Vega'Recurring cast'
Brett Dier as Michael Cordero (1 — present)
Miami PD Detective on the Sin Rostro case, who loves Jane
Yara Martinez as Luisa Alver (1 — present)
An OB/GYN and Rafael Solano's sister
Priscilla Barnes as Magda (1 — present)
Petra's scheming mother
Bridget Regan as Rose Solano (1 — present)
A former lawyer, Emilio Solano's wife and Luisa Alver's lover
Diane Guerrero as Lina Santillan (1 — present)
Jane's childhood best friend
Yael Grobglas as Anezka (2— 4)
Anezka the evil twin sister of Petra and Magda's other daughter
Wes Armstrong as Scott Archuletta (1 — 3)
Emilio Solano's assistant
Justina Machado as Darci Factor (3—present)
Rogelio's ex-girlfriend
Azie Tesfai as Nadine Hanson (1—2)
Michael Cordero's partner at the Miami Police Department
Christopher Allen as Dennis Chambers (Season 3)
Michael's colleague, best friend and former co-worker
Megan Ketch as Susanna Barnett (Season 2)
Michael's new partner
Guest starring
Rogelio's mother
Castulo Guerra as Manuel De La Vega
Rogelio's father
Rogelio's telenovela rival + nemesis, who is currently in a relationship with Darci
Melanie Mayron as Professor Donaldson
Jane's second grad advisor and mentor
Fabiana Udenio as Elena Di Nola (1—2)
Rafael Solano's absent mother
Christopher Corbin as Ivan Rogachevsky (1—2)
Milos' henchman who Petra and Magda take hostage
Michael Rady as Lachlan Moore (1—2)
Rafael's business rival who is favoured by Emilio
Adam Rodriguez as Jonathan Chavez (2, guest 4)
Carlo Rota as Emilio Solano (Season 1)
Alano Miller as Roman and Aaron Zazo (Season 1)
Roman: Rafael's college roommate and Petra's affair; Aaron: Roman's twin brother
Co-Starring
Aiden Tiago as Mateo Solano Villanueva (until 54)
Rosie Garcia as Young Alba
Dennis Mencia as Mateo Villanueva
Greg Collins as Armstrong (1—3)
Brian Dare as Luca (1—2)
Camille Collard as Frankie (Season 1)
Format
Jane the Virgin, an adaptation of a telenovela but itself just incorporating elements of the genre, employs a number of storytelling gags and references to real telenovelas.
Jane's story is told through a specific theme for each season:
The story itself is told like a book with chapters, which are added into parts of Jane's story. So far, it goes as following:
PART 1 – Chapter One to Chapter Twenty-Two
PART 2 – Chapter Twenty-Three to Chapter Fifty-Four
PART 3 – Chapter Fifty-Five to *Series Finale*[2]
Part 3 is the last part of the story
Episodes
Main article: Episode Guide
Accolades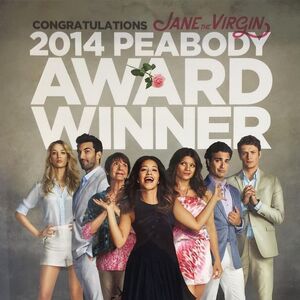 2014 Peabody Award Winner[3]
Jane the Virgin is the 2015 People's Choice Winner for Favorite New TV Comedy[4]
Jane the Virgin was nominated for 2 Golden Globes Awards for Best Television Series - Musical or Comedy and Gina Rodriguez won Best Actress - Television Series Musical or Comedy.
Jane the Virgin was nominated for 2 Teen Choice Awards, Gina Rodriguez and Jaime Camil won Best Actress and Best Actor- Television Series Comedy, respectively.
==Trivia==
In the US the series airs Friday nights on The CW in the 9 p.m. (ET/PT)/8 p.m. (CT) time slot.
Jane the Virgin is the first series from The CW to be nominated for and win a Golden Globe Award[5][6]
Photos
Media
– BUZZFEED january 2016
References